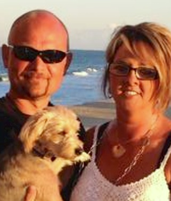 Salon Owned by Robbie & Becky Hogge

Becky M. Hogge Salon Owner and Stylist
Certified in Redken, Pureology, Keratin Straightening, Bioelements and OPI

I absolutely love what I do. I have been licensed in Cosmetology for over 26 years and I love it more today than I ever have. I specialize in Color, Foiling, Texture and Cutting. I work with all hair types from Baby Fine Hair to Extremely Long, Thick, Curly and Frizzy hair. If I had to choose one thing I like the most it would be Color. I also offer Facial Waxing, Manicures, Pedicures, Shellac, Formal Styles and Make up services. I attend Hair Shows and Training Classes all year long. You should know I am a "product junkie". I have used professional products since I started in the business and cannot imagine using anything else on my hair. I use several products on my hair daily and believe you should too if you want to get the most out of your style. It starts with a great shampoo and conditioner for your hair type, then a texture product (to build volume, smooth the hair, or control your style) and finally a holding product to keep that style in place. I love doing perms, especially volumizing waves and long hair designer wraps. I am trained and certified in Keratin Permanent Hair Straightening as well as new techniques to offer you for volume, wave and curl reduction.

My Priorities in life are God, Family then Career. I am married to my High School Sweetheart Robbie and we have three boys; Dakota, Thunder and Chance. We live on a small farm in the county and have been in New Kent and Charles City our entire life. Call 804-966-5200 or text 804-338-6250 to make a reservation with me.

---
Lauren Fudela, Stylist

I have been in the hair industry since I was 14 years old. I have worked as Stylists' assistant and front desk coordinator, attended Virginia Tech for two years , and finished
my Bachelor's degree in Science and Nursing at VCU/MCV. I am now following my passion that i love- The Salon Industry. I plan to become a Color Specialist, Master Stylist and possible own my own salon in the future. I enjoy traveling, the beach, crafty projects and new adventures. To make an appointment with Lauren, please call 804-966-5200 or text 804-338-6250.

---
Jesi Pair, Aesthetician (Facials & Waxing), Makeup Artist, Stylist Associate

I am a licensed Aesthetician of the Aesthetic Institute of Virginia, receiving my certification in 2005. I take pride in helping you reach your individual skin care goals through a thorough skin consult and recommending the proper products for your at home use. Along with addressing your skin concerns, my facials entail supple amount of pampering: massage of the décolleté, face, neck, shoulders and hands. I always use essential oil infused hot towels to relax and renew you. I am looking forward to growing the aesthetics clientele here as well as apprenticing to do hair. I am married to a handsome man and we have a beautiful little girl. My hobbies are cooking and shopping.


---

Maureen LePage, Nail Technician

My career as a Nail Technician and Aesthetician began in 1983 in Southern California. I specialize in Manicures, Pedicures and Waxing Services. I enjoy working with the talented team at Urban Escape.
In addition to my career, I also love animals, especially dogs, volunteering for the American Kennel Club as a CGC evaluator. I recently built a home in New Kent to be near family and I love volunteering my nail services at Assisted Living facilities and am a Certified Nursing Assistant.




---